Presentations
Specialty Presentations
Sex and the Brain
Contrary to the myths of modern culture, the most important sexual organ is the brain. Learn how brain structures and neurochemicals interact to make sex incredibly powerful and captivating. Discover the connection between sex and emotional bonding. You will understand "hotness" much better once you see what you can learn about sex from a branding iron.

Sex in Culture
Images and messages about sexuality are impossible to escape. But just what are we learning about sex from our environment, and do we even realize the beliefs we are forming? This presentation honestly explores how culture views sex, and reveals the raw consequences. It doesn't get more real than this. Find out what you can learn about sex from a can of Diet Dr. Pepper.
A Fun Theology of Sex
You can learn a lot about sex from a chocolate bunny, and from scripture. God's word provides much more than a set of rules for sex. It describes sex as an exciting, pleasurable and fulfilling part of the human experience. Catch God's vision for truly great sex. Discover how to have the ultimate sexual experience.
Understanding Addictive Behavior
Countless individuals are trapped in a cycle of sexual behavior they don't understand. They want desperately to stop and feel hopeless. Why do people keep doing it, and what is the real problem? Experience the truth about addiction and see what drives the cycle. Looking for freedom? Discover how a noodle might be getting in the way.
Healing and Starting Over
In our over-sexualized culture, many people experience sexual brokenness. Whether it involves a struggle with pornography, inappropriate sexual behaviors, or painful emotions attached to sexuality or relationships (shame, fear, guilt, hurt, lonely, etc.), the healing process is similar. God is the God of second chances! Learn how to start over, or help someone else start over. After all, you can learn a lot about healing from a . 

General Presentations (These are not about sex)
Transformed
You've heard that God loves everyone. But do you feel like God loves you? There are common core beliefs that prevent many people from feeling special to God. These beliefs go back to the beginning of time; they were planted in the first garden. Hear the dirt about faulty beliefs and how to bridge the gap between the head and the heart. After all, you can learn a lot about God from a dog.
He'll Never Let Go
Ever felt like you messed up so bad that God can't use you? Perhaps you've been so burdened by guilt and shame that being in God's presence feels uncomfortable. In this insightful, dramatic portrayal of Peter, Steve Holladay explores the thoughts and feelings that led Peter to pledge his devotion to the Savior, then deny even knowing Him. Experience the emotional rollercoaster that took Peter to the edge, and discover the truth; Jesus' grip is strong and He'll never let go.
Seeing Reality

Spiritual warfare surrounds us every moment, but most people seem oblivious to the fighting. We are all influenced by forces not visible to the human eye, and it's what you don't see that can really hurt you. Think The Matrix on steroids! Explore what is really going on around you, and uncover a little-known truth about Earth buried in scripture. You will never see a cake the same way again!
Adult Presentations
Developing Intimate Relationships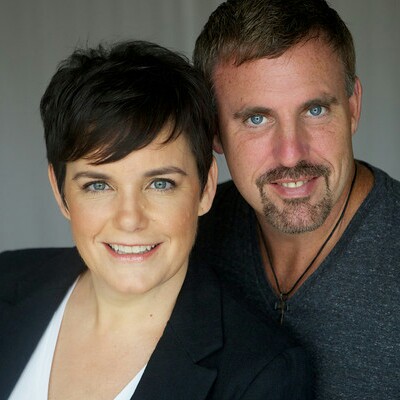 They were nine years into a marriage void of intimacy and on the brink of divorce. Now Steve and Holly are in their 25th year of marriage, celebrating God's gift of a relationship they never thought possible. Hear their story as they discuss dynamics that prevent emotional connection and describe a lifestyle that promotes genuine intimacy. Steve and Holly's story of transformation will educate you and encourage you to develop more authentic relationships.
Talking to Children about Sex
One of the most difficult challenges for parents is talking with their children about sex. Yet, it is one of the most important topics to address in a hyper-sexual culture, and the process should begin at an early age. What can parents learn about sex from a pistol? And what can happen if parents fail to teach truth about sex? Steve Holladay offers insight into these questions and equips parents to begin early, consistent dialogue with children, preparing them for a lifetime of healthy sexuality.