The Ultimate Rottweiler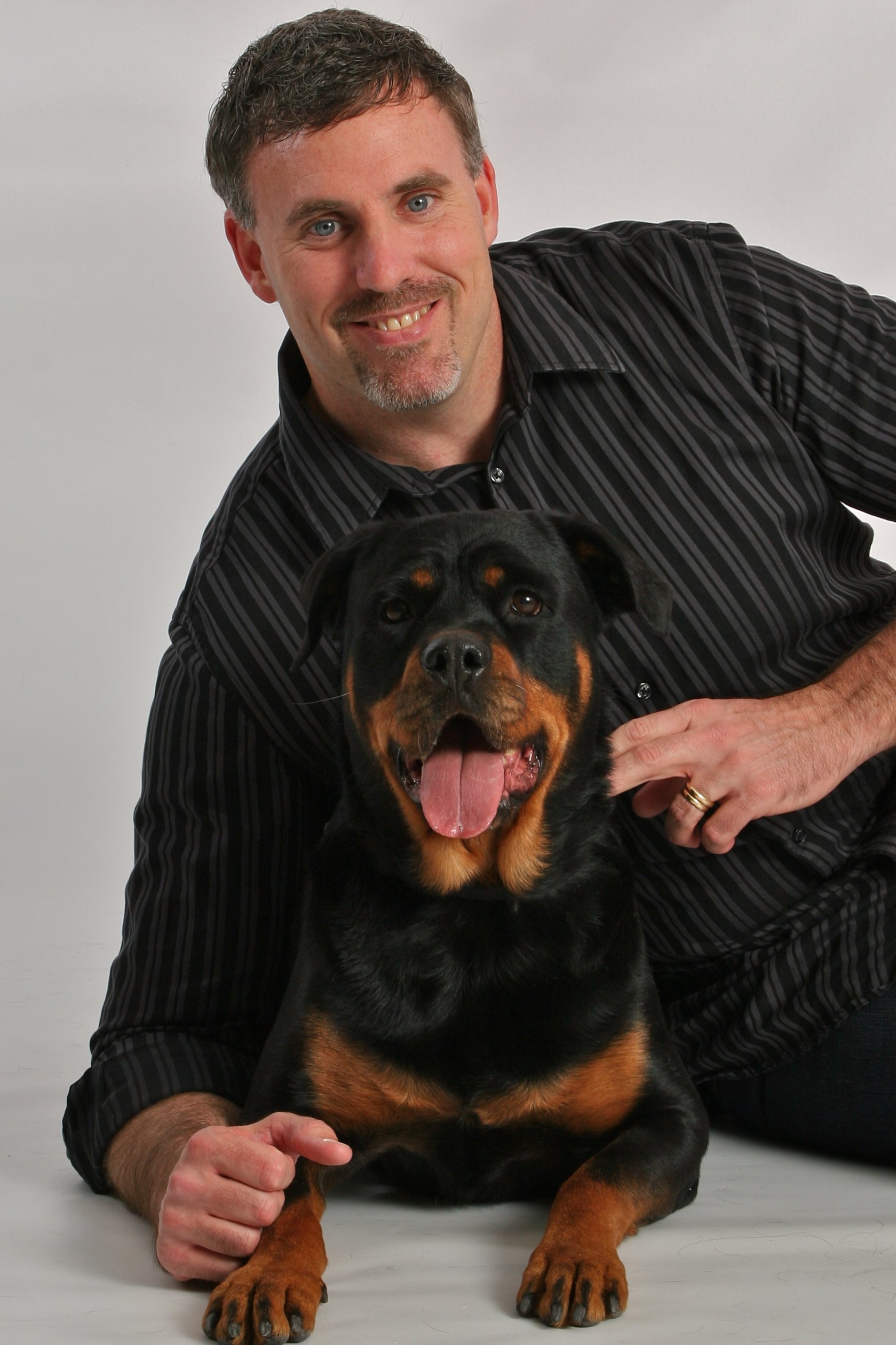 Artemus' Baby Ruth, CGC
Baby Ruth is Steve's 11-year-old rottweiler and co-presenter of the Ultimate Escape presentation, "Ultimate Relationship: Connecting With God." Baby Ruth made her debut on stage with Ultimate Escape during Impact '09 at Lipscomb University in Nashville, TN. Since that time she has encouraged the hearts of teens and adults across North America, from East Hampton, NY to Midland, TX and from Regina, Saskatchewan, Canada to Atlanta, GA.
Baby Ruth is an avid sports player! She has scored a basket on a basketball goal (a genuine Air-Bud), loves to retrieve golf balls, will play catch with any willing partner, is a formidable opponent for tug o' war, and enjoys playing frisbee. If there is a ball involved, Baby Ruth is anxious to play.
Baby Ruth has won "Best of Breed" and placed in group in UKC shows during her brief career as a show dog. She has the heart of a rottweiler and lives to work.
Baby Ruth is an excellent guard dog! Steve enjoys sharing stories about Baby Ruth in action (ask about the car load of bad guys in Portsmouth, VA) when opportunities arise. If you are her friend, she has your back!
Baby Ruth shares her home with Steve, Holly, and Griffin, and her replacement-in-training, "Legend." When she is not on the road presenting with Ultimate Escape, Baby Ruth can be found guarding her home in Allen, TX. Her favorite spot is the big red chair (her throne) followed closely by the brown leather love seat.
Before purchasing Baby Ruth in 2003, Steve prayed that God would lead him to the perfect rottweiler puppy for the Holladay family.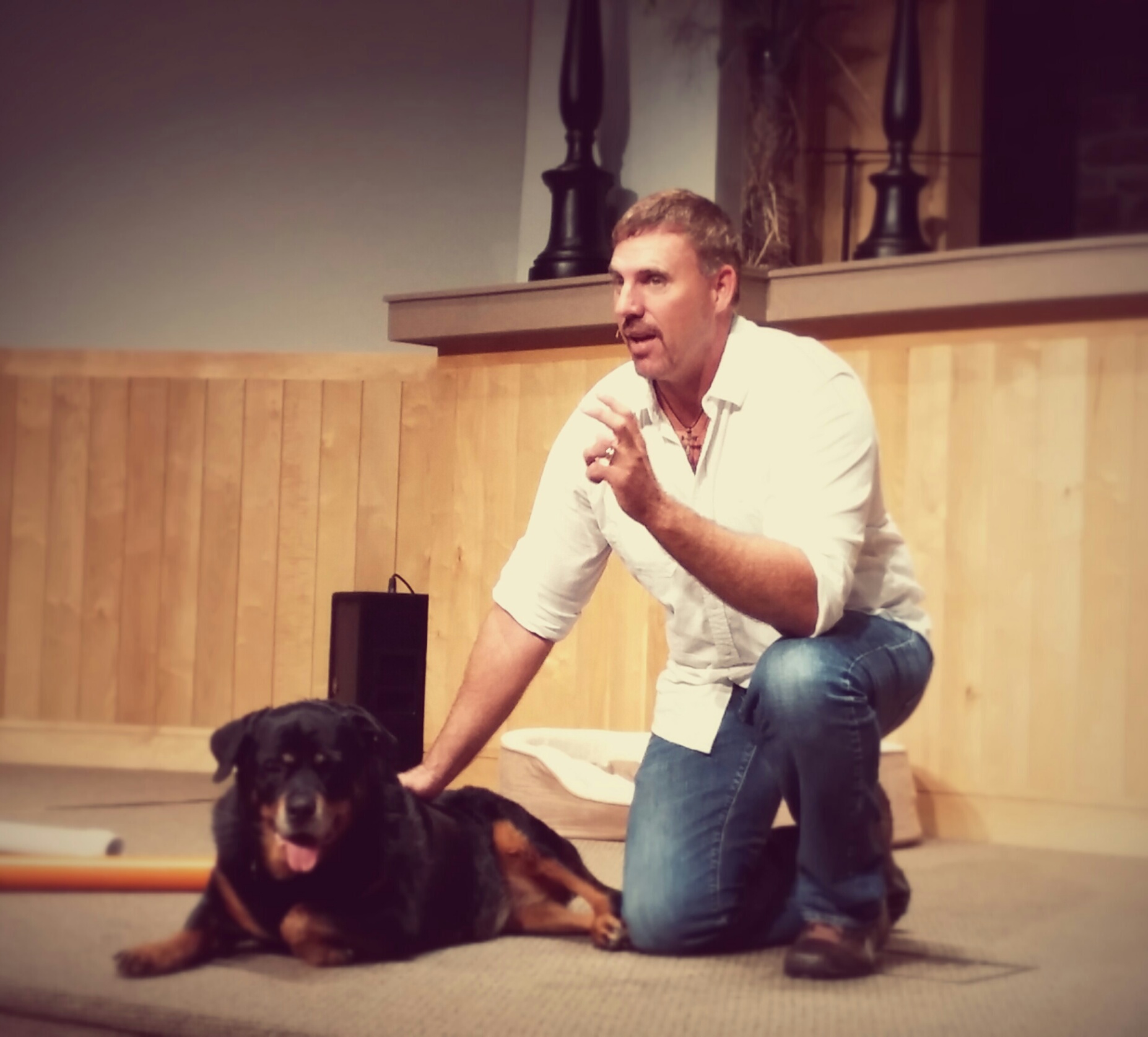 God answered that prayer and blessed Steve with more than a pet. God provided a partner for Steve to use in helping people emotionally embrace the truth that God loves them.
Many people know that God loves everyone, but don't feel like God loves them. God uses Baby Ruth to help people bridge the gap between the knowledge in their head and the void in their heart. After all, you can learn a lot about God from a dog!
What People are Saying About "Ultimate Relationship"
"Many sermons I have forgotten by lunch time, but not this one!"
Dr. Ian A. Fair, Professor Emeritus of New Testament and New Testament Theology, College of Biblical Studies, Abilene Christian University, Allen, TX
"I've never seen that much cross-generational fixed attention in one room. Everybody was glued and locked in to what was going on." Charlie Sells, Youth Minister, Greenville, SC
"I felt God's arms wrap around me this morning for the first time in a long time."
Justin Gravley, Henderson, TX
"Very profound...God's love for us, separate from what we do for him, is such an essential truth that we often miss. I hope many people get the opportunity to hear this presentation." Debra Herrmann, Greensboro, NC
"…a big hit with our students! Baby Ruth captured their hearts and riveted their attention to Steve's lively, engaging presentation. I feel confident that our students will never forget Steve's message about God's unconditional love for them."
Lucy Allen, Dean of Student Life, Lucas Christian Academy, Lucas, TX
"You do an excellent job. Come back again and bring the dog."
Jerry Hill, Founder, Timothy Hill Children's Ranch, Riverhead, NY
"Steve and Baby Ruth illustrated beautifully that our connection to God is based on our loving and mutual relationship with Him, not on any performance by us."
Rachel Solomon, Host of Gray Hair Talking, Kernersville, NC
"Steve Holladay's illustration of Baby Ruth was an encouragement that taught all the participants that God is after having a patent relationship with man."
Herman Kayima, Administrator, 100% Hope, Mityana, Uganda